Patience Begins At Every Baruch Step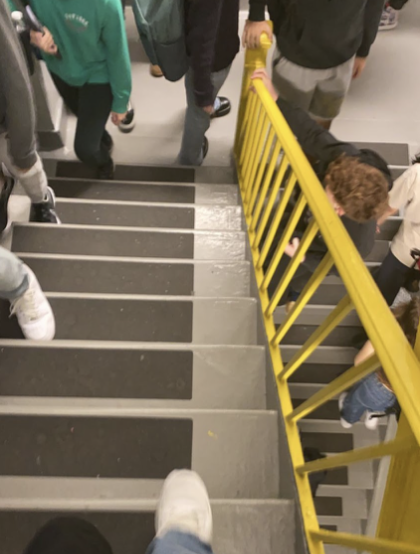 Envision yourself leaving for the weekend on a Friday afternoon. The bell rings and you dash out the door only to notice a crowd of students, which seems more like a stampede of bulls. Truthfully, waiting in line to enter the stairway at Baruch feels longer than filling in the bubbling sheet for the PSAT. As you finally reach the stairway, you feel a sense of relief, only to realize there is a tremendously long line of people waiting to go down the stairs. You've been standing there for 2 minutes now and the temperature starts rising. After minimal movement, you reach the next floor only to see more people joining the crowd. To make room, people move aside, yet this simply causes more delays. Finally, after a few minutes, you reach the exit and catch a much needed breather. 
This is relatable to many Baruch students as this happens daily. Throughout the day, hundreds of students utilize narrow stairwells (A and B) to get from one class to the next. Students have described the stairwells as "steep, crowded, and dangerous." Positively speaking though,  these stairwells have taught me to be more careful and aware of my surroundings. I have found myself in moments where if I didn't hold onto the railing, I would have ended up looking like Flat Stanley. Another student described an experience on the stairwell where they almost fell due to how crowded it was. 
Additionally, each floor's entrance is too tiny for two lanes of stairway entry and exit, so many students are getting to class late. One student compared Baruch's stairwell entrances to the  crowded entrance doors at Brandy Melville (a popular clothing store). There is only enough space for a line of people to go up and come down the stairs. However, I can say that when I'm in a hurry and want to get things done right away, the Baruch stairwells have taught me how to be more courteous and patient with students and people in general.