September and October: Albums in Review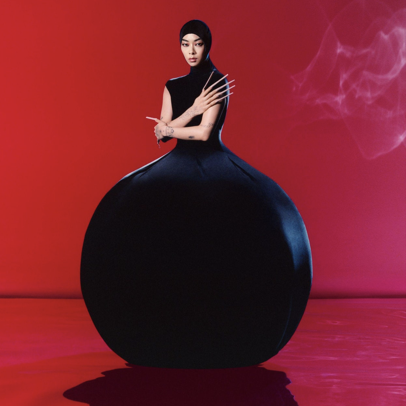 ALBUM: Hold The Girl by Rina Sawayama
RELEASED: September 16th
MUST LISTEN TRACK: This Hell
PERSONAL FAVORITE: Your Age
A mere two years after her critically acclaimed debut album, SAWAYAMA, British-Japanese singer Rina Sawayama is back with an album that's just as experimental and dynamic as her first. From the pop-ballad "Catch Me in The Air" to the darker, rock inspired "Frankenstein", there's a song for everyone on this album. Despite the album's eclectic inspirations, the album's lyrics have very similar themes of growing up and childhood trauma that she unpacks throughout the album. Despite the heavier lyrical themes, Sawayama doesn't let that stop her from creating an upbeat, catchy, and danceable album. The lead single "This Hell" is a great example of this — she takes harmful homophobic rhetoric and turns it on its head to create a country inspired rock-pop anthem uplifting the queer community. The opening song, "Minor Feelings", a dreamy track that lets Sawayama's vocal abilities shine through, sets the emotional tone for the rest of the album. It leads perfectly into the album's title track, "Hold The Girl", which shifts back and forth between an early 2000s power ballad and a classic dance song. Although it's a bit dizzying at first, it's the perfect example of how Sawayama masterfully combines genres to create her own distinct sound. 
ALBUM: Entergalactic by Kid Cudi
RELEASED: September 30th
MUST LISTEN TRACK: Willing to Trust (with Ty Dolla $ign)
PERSONAL FAVORITE: She's Looking For Me
Kid Cudi (or Scott Mescudi) has had a busy year. After modeling for Levis and Louis Vuitton, acting in Tai West's horror film "X", and creating his own TV show with Netflix, it's incredible that he's released such a high quality album alongside the rest. The album, which is the soundtrack for the aforementioned Netflix show "Entergalactic", is filled with songs about love and life. "Willing To Trust", one of two songs on the album that features rapper Ty Dolla $ign, is a highlight on the album, with its transcendent harmonies on the chorus setting it apart from the rest of the tracks. The production is beautiful, never trying to be too flashy or complex. It's the perfect vessel to carry Cudi's mellow rapping and singing. And after telling Rolling Stone he may be quitting music soon, it would be the perfect album to send off an artist as influential as Mescudi. 
ALBUM: Blue Rev by Alvvays
RELEASED: October 7th
MUST LISTEN TRACK: Many Mirrors
PERSONAL FAVORITE: Belinda Says
"I dropped out / College education is a dull knife", sings Molly Rankin as she opens up "Easy On Your Own?", on the Canadian band's third album, Blue Rev. Though a bad omen for us currently going through the college process, it's a perfect example of the band's signature witty and reflective lyricism that is present throughout the album. With lyrics like "Is she a perfect ten? Have you found Christ again?", the album follows similar themes found on their previous albums of nostalgia and longing for past relationships. Rankins euphonic lyricism is highlighted on the post-punk inspired "Pressed" and the bright, sardonic "Pomeranian Spinster". The dream-pop group leans heavily into their shoegaze inspirations, with soaring synths and distorted guitars that roar behind Rankins' reverbed vocals. While all of the songs keep to the same vibe, each song is distinct with their own quirks, like the explosive ending of "After the Earthquake", or the very glitchy, futuristic sounding synths and vocals on "Very Online Guy". And with most songs being less than 3 minutes long, the songs are fresh with no filler. The album's closer, "Fourth Figure" is a unique track that highlights Rankins powerful yet delicate vocals. And with synths that sound like strings, it sounds like the national anthem for a country I would love to live in.
MUST LISTEN TRACK: Looking for Somebody (To Love)
ALBUM: Being Funny in a Foreign Language by The 1975
RELEASED: October 14th
MUST LISTEN TRACK: Looking for Somebody (To Love)
PERSONAL FAVORITE: Happiness
The 5th album from British indie pop band The 1975 is their shortest to date, but it doesn't skimp out on the quality one comes to expect from the band. The band is constantly evolving, but it's clear the band has fallen into a rhythm and sound that they feel comfortable in, lending to a very cohesive album that should be listened to front to back. The first half of the album consists of bright, danceable pop songs that slowly wind down as you go along, with the album finally ending with the band stripped down bare on the acoustic track "When We Are Together". The third track on the album, "Looking for Somebody (To Love)", with its darker political message thinly veiled behind a cliche title and poppy sound, exhibits the classic features of a 1975 song. And with lyrics like "Our first kiss was Christmas in the Walmart toy department", on the album's closer, lead singer Matty Healy makes it clear he can be funny in his native language, too. 
ALBUM: The Car by Arctic Monkeys
RELEASED: October 21st
Must Listen Track: There'd Better Be A Mirrorball
Personal Favorite: Body Paint
Arctic Monkeys are no longer the greasy, cheeky rock and roll stars they once were. With The Car following in a similar vein to their previous, loungey space rock album Tranquility Base Hotel and Casino, it's clear they've traded in their leather jackets for good. But even though the two albums may sound similar with their lounge vibes and piano forward songs, it's clear they've matured a lot musically in the 6 years they've been on hiatus. With funky bass lines and dramatic string arrangements, it sounds like it could be the soundtrack to a movie. And with lead singer Alex Turner's smooth and delicate vocals, the album has a very sleek and elegant vibe. And despite the fact that it's clear they've moved on from their past styles "Sculptures of Anything Goes" has traces of their critically acclaimed 2013 album AM sprinkled in it, with its simple drum beat and heavy bass line. The album's lyrics follow similar themes of confusion and longing, that culminates in acceptance as Turner sings the final lyric on the closing track "Perfect Sense", "If that's what it takes to say goodnight, then that's what it takes".