From Missouri and Georgia to the Empire State
Sitting at a table at Maki Sushi in Alpharetta, GA, feelings of excitement and sadness gripped me at the same time. I was with my step-dad, mom and sister for our last family dinner before I moved to New York City. I'd be leaving them behind as I went to live with my dad and step-mom for my junior and senior years.
After our meal, or "supper" as my Georgian born-and-raised step-dad would say, my parents took pictures of my sister and me as the sky around us was painted with orange and yellow hues. I will always miss sunsets back in my home state – maybe it was the lack of light pollution which made them so gorgeous.
Once we got through picture-taking, we hopped into my sister's black Jeep Compass as she drove us home. We played "Party Rock" through her stereo. Driving at all, especially on roads surrounded by trees and horse stables, was a norm I'd have to unlearn. 
A few days later, I got on a two-and-a-half hour flight from Hartsfield-Jackson airport to Laguardia, tall buildings welcoming me.
I'm not the only student who has been settling into BCCHS after transferring from out-of-state, though. Senior Stella Scarozza also moved to the Chelsea area in June from "chill" suburban Missouri.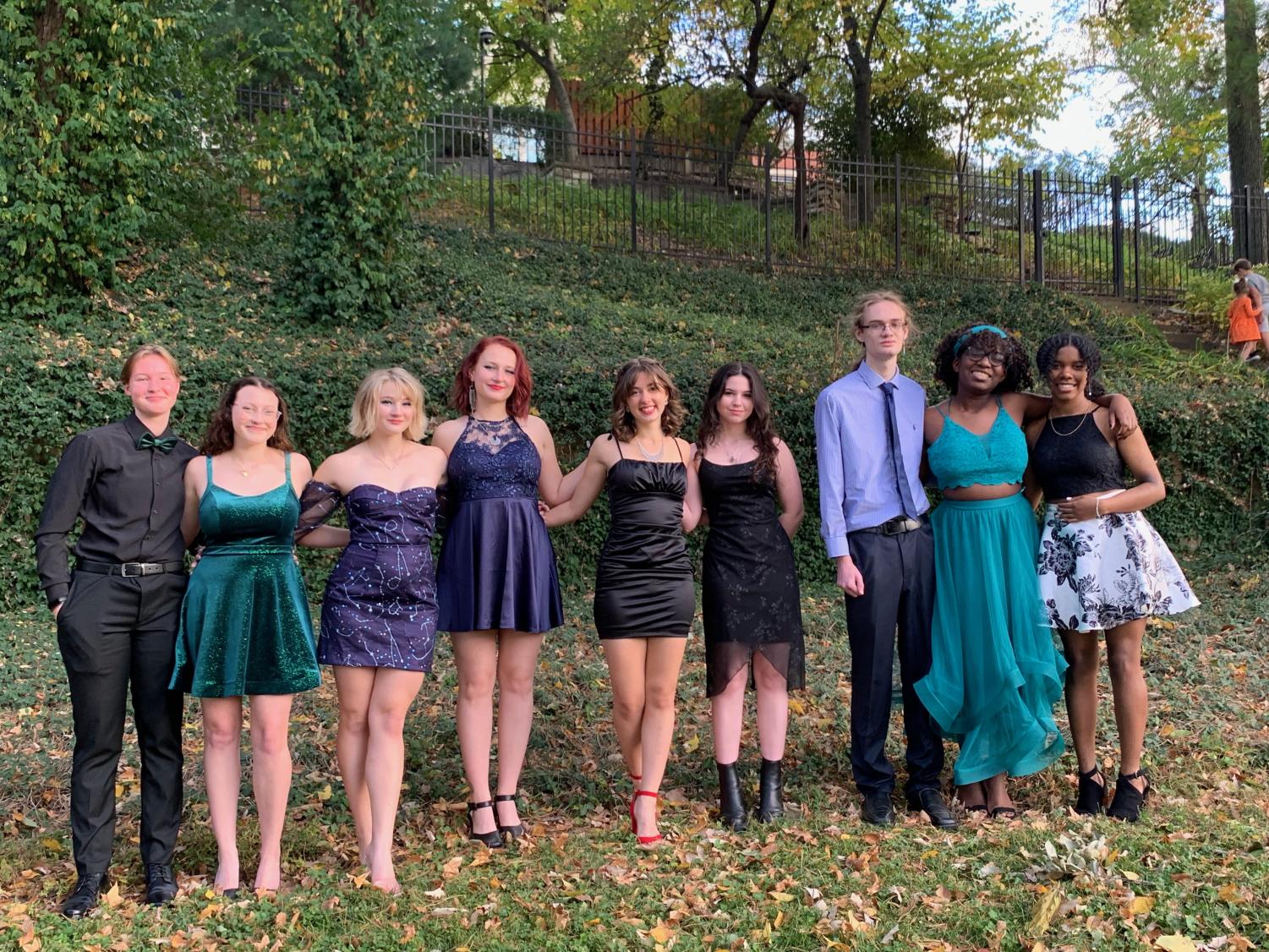 "I feel like my brain is so fast paced, but I don't really need the environment I'm living in to also be fast paced," she said. "There's so much around here to do, but I sort of feel like that's overwhelming."
Scarozza was in a St. Louis hotel room while on a weekend trip when she overheard her dad scoring his new job in NYC. He works as an investment advisor. 
I also moved here due to a parent's job. My stepmom went from working at Georgia State University (GSU) to becoming CUNY's vice chancellor. I had wanted to move in with her and my dad for a while to bond even more before college. Tearfully, my mom agreed it'd be a good idea – and now, here I am.
Scarozza grew up visiting New York a lot as she has family residing here. 
I had visited the city only once before knowing it'd be my home: I was 11 and took a short trip with my mom.  I still have my MetroCard from that trip in a box in my small city-person closet. Luckily, we saw all the tourist attractions then, so I didn't have to check those off a bucket-list when I came here five years later.
My to-do list while visiting Georgia for a three-day weekend in November consisted of eating Zaxby's and  giving my dog her new "I Heart NYC" outfit. (Zaxby's is a popular chicken fast-food chain and it pains me when people up here have never heard of it).
.
I always say Georgia is fun if you already live there. It's not fun to visit.
The aquarium is always listed as one of the best in the world, and trying soda flavors from around the globe at the World of Coke is neat, but nobody would want to travel just for these experiences. Not like how people come to New York for Broadway shows, the Statue of Liberty and shopping on fifth avenue. 
While my home state isn't very special, one thing I miss most about it is driving my gray 2012 Volkswagen Jetta named Luis.
I got my permit four days after I turned 15 and my license at poor timing: I passed the test one week before I moved. I was supposed to start driving myself to school instead of taking one of those yellow buses or depending on my sister in August.
Getting a license is one of the most important events in high school where I'm from. I regret not earning it until six months after my birthday.
I turn 17 on Tuesday and it's the first time I've been stressed out about aging up. I feel like I missed out on so many opportunities because I couldn't drive. I feel like my year being 16 was wasted.
In New York, though, I've gotten used to the subway. Taking the six to school and back home, taking the M to K-town with my best friend from Queens for K-pop album shopping. I like the ease of getting anywhere – though a car would be almost as simple down South.
Atlanta's train system is called MARTA – it's barely helpful, and there are huge parking garages outside of its few stations. This fact is one of my favorite things to surprise New Yorkers with: having to drive to use the metro.
While I like some aspects of the subway, strangers using it scare me; I've started to assume the worst of every person who walks past me. In Georgia, I'd say "good morning" to a random old man. If a similar character spoke to me here, though, I'd fear for my life.
New York feels lonelier, meaner. I guess this is what happens when you step out of southern hospitality-territory after 16 years.
There are no more "God bless you"s from cashiers, no more people holding the door open for me with a smile and no more making small talk about weather in the elevator. It's taken some getting used to.