Baruch's National Divisions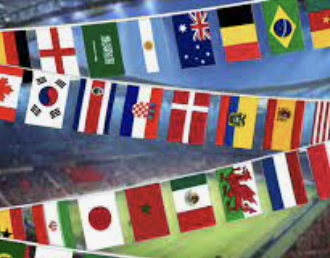 The 2022 FIFA World Cup hosted by Qatar began on 20th November 2022 when the first match occurred: Ecuador vs. Qatar. It ended with a shocking 2-0 score that shut the host team out in the first game for the first time in World Cup history. Since then, many countries have been eliminated as old rivalries came to the forefront of the international public consciousness. With shocks and upsets happening daily, it is no surprise that this excitement can seep even into small New York schools.
It turns out that, at Baruch, nationalist impulses fuel soccer fandoms. Indeed, our patriotism is essential to who we root for in international sports. 
Discussions with Baruch students shed light on how students can be influenced to root for and support their home teams. Javier Marciano, a student in the 11th grade, had some exciting traditions when it came to the World Cup. Marciano said that he'll root for Argentina until the day he dies because, for him, it is not mere bandwagoning but rather a question of pride for him and his family.
The idea of supporting a team–and, to a greater extent, a country–just because of one's family does seem both shocking and quite logical, as so many human choices are caused by people just accepting the way things are and supporting that way over all others.
Marciano also said that he is superstitious about World Cup victories in that on any day that Argentina plays, he wears the Argentine team's jersey and dines at a restaurant called Buenos Aires. When asked about the latter, he said, "I went there in 2018 and 2014, and everyone there is the proudest Argentine ever. We go pretty crazy in the restaurant." Whether these superstitions are true isn't up for us to say, but they had indeed worked, as Javier's efforts paid off when Argentina won the FIFA World Cup 2022 against France on Sunday, 18th December 2022.
Javier, however, is not the only individual here at Baruch who is a die-hard fan of their country. Mr. Jacobs, 11th grade AP US History and 12th grade Government teacher, had strong opinions about the World Cup too. He supported the United States right from the World Cup's beginning, expressing his love for the team by "Purchasing an $18 American flag and wearing it a couple of times." It is easy to see that when it comes to supporting one's team, Mr. Jacobs certainly knows how to do so in a peculiar manner.
Last but not least, we interviewed our very own student body president, Ga-In Lee. She supports Korea because of her identity as a Korean-American and her particular support for players Son Heung Min and Lee Kang In. When asked about her method of helping the team, she, like many of us, was watching every match, cheering for the teams at school, and posting about the outcome of every game on Instagram.
All of these voices had a similar opinion in that the ethnic and national diversity of Baruch has led to the creation of a common ground wherein everyone has a reason to pitch in and voice their opinions. These opinions can range from thoughts about a particular team to a fondness for a specific player and so much more.
Despite the lack of popularity of soccer in the US and the national division of teams in the World Cup, we have, in the past month, seen that the World Cup has had nothing short of a miraculous effect on our school. Everyone and anyone, from 9th graders to 12th graders, from American students to international students and people of every religion, race and ethnicity were united in this one grand festivity.
We associate the World Cup as something that has the potential to create strong nationalistic feelings, and while it is certainly true. We have, quite frankly, seen the opposite happen. Despite all the strong opinions people have about different teams and different countries, this one single sporting event has allowed our school to look beyond mere nationalism and unite to form a community more united than ever before.