Being a Student Athlete With No Athletic Skills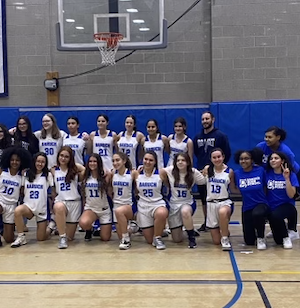 This time last year, I'd never heard of a 2-3 defense, man-to-man defense, or setting a pick; sports seemed like a useless pastime that ultimately equated to nothing. Yes, it's said to promote collaboration and help develop social skills, but doesn't joining the newspaper do the same? 
Yet, by taking advantage of the unspoken rule that all seniors make the basketball team, I realized there's more to basketball than just getting a brown ball into a net. 
I joined the Girl's Varsity Basketball team because my friend, Nikki Kasow (12), has been on the team since freshman year in 2019. Kasow, a huge proponent of team sports, convinced me to join by saying, "it would be the best way to spend more time together in our last year of high school." 
I saw the basketball team as a funny way to spend my afternoons; having no experience with the sport, I considered it a joke of an activity and was excited at fooling around with Kasow. 
Mike Breman, the PE teacher at Baruch High School, coaches the Girl's Basketball team.  Breman's intensity of drills and plays made it more apparent that Basketball isn't just running down the court to get a ball into a net; it takes skill and collaboration. This first practice made me realize just how much more seriously I was going to have to take this. 
Though Breman is a fantastic coach, the basketball plays made no sense to me: why did they keep screaming random odd numbers while playing? What is Pressing? Whipping out a small whiteboard, Breman began to draw arrows around the court mapped out on the board – a strange language: as foreign and bizarre as learning what a NutGraf is in journalism. Though it looks like letting children loose inside a gym, there seemed to be much more precision to their wild running than I ever thought. 
"Break us down, Sophie [Abelow]," shouted Breman at the end of practice the first day. The team rounded into a circle, and Abelow called, "Baruch on Three… Blue Devils on Six." That moment demonstrated why Parents put their kids in sports starting at an early age: being on a team, specifically a sports team, means that you're not working for yourself; you're working for a whole. One win becomes thirteen individual wins.
 I still can not make a lay-up after many days of practice, but joining Basketball has granted me 13 friends – friends across all grades that I would have never been able to talk to otherwise.
 February 9th was the last home game of the 2022 – 2023 season. But more than just the last game at home, this night commemorates all graduating seniors on the team. The team gifted each senior a necklace with their jersey number and last name and created posters with pictures of each play. 
Senior night was the moment that made me realize just how much this group of people had impacted my life; once joining a team, sports became real. As Magnus Backstedt said, "it's not a sport; it's a lifestyle."