Personal Branding: The Politics Of Fame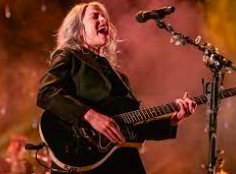 In today's political climate, the line between advocacy and pop culture seems not just to be blurred but completely gone. Being a celebrity is no longer just about brand deals and living large; stars are expected to use their platform to speak out about current events and issues. 
Nowadays, celebrities' personal brands are intertwined with their political beliefs: from TikTok star Amelie Zilber to Indie/Alt. Singer Phoebe Bridgers, celebrities' platforms go far beyond their talent. 
With her dark lyrical themes, monotonous style, and straight screaming at the end of her song, "I Know the End," Phoebe Bridgers takes her share of heat. And though many listeners find her music dull, her ability to get angry and use her platform for activism distinguishes her from other musicians. 
 In opposition to her eerie music, Bridgers gets angry on stage, voicing her political opinions.
 Bridgers begins many concerts with chanting – most famously, "F**K the supreme court," which she led at the Glastonbury festival shortly after the release of the overturning of Roe V. Wade. Bridgers' rapidly growing popularity has allowed the singer to use her platform to point out society's flaws on topics ranging from abortion to LGBTQ+ rights. Before the Glastonbury festival, Bridgers spoke about her experience getting an abortion at Planned Parenthood, writing on Twitter, "I had an abortion in October of last year while I was on tour. I went to planned parenthood, where they gave me the abortion pill. It was easy. Everyone deserves that kind of access. Here's a big list of places you can donate to right now." 
 Bridger's brand is not just her music but her transparency with her fans, showing what she believes in through her music and activism. Bridgers has become more relatable, using her platform to advocate for an issue affecting many of her fans and herself. 
 Amelie Zilber, originally famous for her looks, is now using the 7.2 million followers she has on Tiktok to educate: translating policies and advanced political language into understandable content for her Gen Z followers. When she's not involved in brand deals, most recently Dior makeup, Zilber is making informational content on various social media platforms. Her far-reaching activism allowed her to become an ambassador for UNICEF, an organization that provides humanitarian aid to children. Zilber's use of her platform to speak out and educate has made her a role model for Gen Z and has directly allowed her to attack the "beauty equals stupidity" stereotypes. The 20-year-old has both signed with Ford Models and sat down with Pete Buttigieg, the transportation secretary, to speak about infrastructure. 
When asked about celebrities and political activism, many Baruch students first thought of Taylor Swift – infamous for her complex political journey. Early in her career, Swift steered clear of politics entirely, and maybe that choice was due to her genre of music at the time: country. Yet, when the singer established herself as a pop icon with her album, "Lover," Swift took more of a public stance on political issues. In 2018, Swift brought her political views to light by endorsing Phil Bredesen, the democratic candidate for general election for the U.S Senate. Since then, the world has expected Swift to use her popularity for endorsement of politics. In the past month, however, Swift has faced growing controversy over the allegedly fatphobic themes in the music video for her hit song, "Anti-Hero".
In the video, Swift steps on a scale which reads, "Fat." To many, displaying the word "fat" in a negative context sends the message that being fat is not okay.
 "Once again: art about how your biggest fear is being fat is fatphobic art!" tweeted a critic of the video. 
After receiving so much criticism for this clip, Swift listened – sort of. The scene has been removed from the music video entirely, but many critics and Baruch students believe this matter deserves more attention than just the quiet removal.
"She needs to speak on the matter. This is the perfect time to use her platform to educate and promote body positivity; it would also be good for her brand," said Nikki Kasow, a Baruch senior and avid "Swifty."
Sophie Abelow, a senior at Baruch, had a different opinion. When asked, Abelow said, "I think we're just holding celebrities to too high a standard. No one would expect the average millennial to solve world hunger, so I don't know why we expect that from celebrities."