This Is Why You Should Listen To This Is Why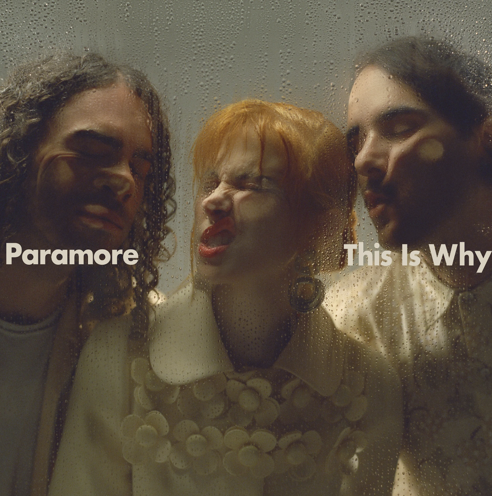 Despite taking a 5 year hiatus, the members of eminent emo band Paramore have been doing everything but resting. Lead singer Hayley Williams released two solo albums – the first of which being produced by lead guitarist Taylor York – and drummer Zac Farro released two EPs under a side project called Half Noise.
Across these projects, it's hard to find two that are sonically similar. Yet, they came together to create a project that feels bubbly and ever evolving while still remaining distinctly Paramore: This Is Why.
The lead singles hail from the first half of the album; Punchy, sardonic pop-punk tracks with catchy riffs and lyrics that make you want to jump around. The title track "This Is Why" and "The News" offer thinly veiled political references on top of driving guitar hits and cowbells. "Running Out Of Time" and "C'est Comme Ça" offer intimate glimpses into William's life; doctors appointments, house parties and dog walking. 
The second half of the record is where the album feels strongest. The band gets more personal, reaching into their past albums for musical inspiration and current personal concerns for lyrical inspiration. 
"You First" and "Figure 8" stand out as the band giving into their emo roots, but with more mature inspirations. "You First" continues Paramore's common motifs with revenge and a distaste for idolatry. With syncopated drums and clarinet lines, "Figure 8" sounds like it belongs on Radiohead's In Rainbows – a band Williams has touted as being her favorite. Williams sings of inner turmoil, "Became the very thing that I hate / I lost my way / Spinning in an endless Figure 8". 
The albums closer, "Thick Skull" acts as the perfect way to round out the album. Like a contained explosive, it weaves in and out between Williams belting and softly singing the lyrics. The song discusses Williams' perceived failure to not let media criticism affect her, singing "Thick skull never did nothing for me / Same lesson again? / Come on, give it to me". She's almost taunting those who critique her, at her own detriment. After a nearly two decade long career, this album stands out as the band reflecting on their career, perhaps opening up the band to new beginnings.